Breakfast
How do you like your eggs in the morning? Start off your day right and enjoy our delicious breakfast served every morning. Take a peak at our breakfast menu.
Best Boutique Stay 2019
Muddy Stilettos Awards
We are so delighted to announce that we have been voted as The Muddy Stilettos 'Best Boutique Stay 2019'. We would like to say a huge thank you to everyone that took their time to vote for us and a thank you to all our lovely guests who have stayed with us and lastly, thank you to the whole team for all the hard work and dedication they put in, to giving our guests the best experience.
Burger Night
Join us, for our Burger Night
Every Tuesday
Are you a Kickin' Buttermilk Chicken or a Veggie Warrior? Enjoy one of our delicious burgers every Wednesday and we'll throw in a beer, glass of wine or soft drink for just £15! here.
So, what are you waiting for? click here to book.
Quiz Night
Every Thursday
Join us, for our Quiz Night
Every Thursday 
Could you be our quiz champion? Test your knowledge every Thursday at 8pm. Start thinking about those team names and book your table now!
So, what are you waiting for? click here to book.
Sunday Roast
Every Sunday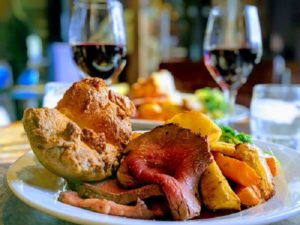 Indulge in our succulent Boneless Half Chicken or our Topside Beef, or try our delicious Nut
Roast. All served with roasties, Yorkshire pudding, buttered vegetables and cauliflower cheese.
Make sure you book a table to avoid disappointment!
Rugby World Cup
Join us for the Rugby World Cup
Could we recreate the magic of 2003? We're so excited about the start of the Rugby World Cup this weekend! We will be showing the selected games on our screen in the pub:
Sunday 22nd September- Ireland vs Scotland – 8.45am
Sunday 22nd September- England vs Tonga- 11.15am
Monday 23rd September- Wales vs Georgia- 11.15am
Thursday 26th September- England vs USA- 11.45am
Saturday 28th September- Japan vs Ireland- 8.15am
Sunday 29th September- Australia vs Wales- 8.45am
Monday 30th September- Scotland vs Samoa 11.15am
Thursday 3rd October – Ireland vs Russia 11.15am
Saturday 5th October- England vs Argentina 9am
Wednesday 9th October- Wales vs Fiji 10.45am
Saturday 12th October- England vs France 9.15am
Sunday 13th October- Wales vs Uruguay 9.15am
Sunday 13th October- Japan vs Scotland 11.45am
Fresh coffee and a SCRUMmy breakfast menu will be available for those early matches!
Bar open
Monday-Friday:
7am-11pm
Saturday
8am-11.30pm
Sunday
8am-10.30pm
Breakfast
Monday-Friday
7am-11am
Saturday
8am-11am
Sunday
8am-11am
Lunch & Dinner
Monday-Friday
12pm-9.30pm
Saturday
12pm-10pm
Sunday
12pm-9pm
D'Pary's
45 De Parys Avenue
Bedford
MK40 2UA